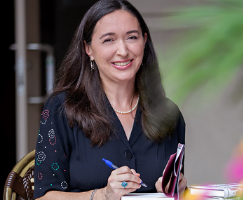 Zena Hitz returns and discusses Lost in Thought
In Episode 23, I speak with Zena Hitz about her new book, Lost in Thought: The Hidden Pleasures of an Intellectual Life.  We discuss how love of learning saved us and how we can reclaim it for ourselves in our busy and distracted world. I hope you enjoy our conversation!
Zena Hitz is a tutor at St. John's College in Annapolis, Maryland where she teaches across the liberal arts.  She writes in defense of intellectual activity for its own sake, a thesis she defends in her new book, Lost in Thought.  Her scholarly work has focused on the political thought of Plato and Aristotle, especially the question of how law cultivates or fails to cultivate human excellence.  She received an MPhil in Classics from Cambridge and studied Social Thought and Philosophy at the University of Chicago before finishing her PhD in Philosophy at Princeton University.
Jennifer A. Frey is assistant Professor of Philosophy at the University of South Carolina. Prior to joining the philosophy faculty at USC, she was a Collegiate Assistant Professor of Humanities at the University of Chicago, where she was a member of the Society of Fellows in the Liberal Arts and an affiliated faculty in the philosophy department.  She earned her Ph.D. in philosophy at the University of Pittsburgh, and her B.A. in Philosophy and Medieval Studies (with Classics minor) at Indiana University-Bloomington. She has published widely on action, virtue, practical reason, and meta-ethics, and has recently co-edited an interdisciplinary volume, Self-Transcendence and Virtue: Perspectives from Philosophy, Theology, and Psychology.