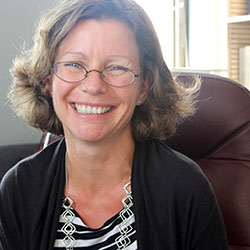 Agnes Mueller on Thomas Mann's Death in Venice
In this episode, I speak with my colleague, Agnes Mueller, who is a professor of German and Comparative Literature at the University of South Carolina, about why Thomas Mann's novella, Death in Venice, is a must-read during our ongoing pandemic. We talk about Modernism, Plato, and Nietzsche. We see the novella as exploring sickness, death, and eros, and we find similarities and continuities between the lovesickness that grips von Aschenbach and cholera that eventually kills him. We also ask whether Mann's novella is a rebuke of, or perhaps even a vindication of, Plato's ideal of erotic love. Either way, we agree that the novella is a deep engagement with Platonic ideas and is one of the best treatments of love in literature, period.
I hope you enjoy our conversation.
Agnes Mueller (M.A., LMU Munich, Germany, 1993, Ph.D., Vanderbilt U, 1997), a Professor, is an expert on recent and contemporary German literature. She is core faculty in Comparative Literature and affiliated with Women's and Gender Studies and with Jewish Studies. Her publications are on German-American relations, multicultural studies, gender issues in contemporary literature, German-Jewish studies, and Holocaust studies. Her 2004 anthology German Pop Culture: How "American" Is It? (U of Michigan P) is widely used for teaching and research. In addition to all levels of German language and culture, she regularly teaches advanced undergraduate and graduate classes, and has lectured in Germany, Canada, and the U.S. Her most recently published book is entitled The Inability to Love: Jews, Gender, and America in Recent German Literature now available in German translation as Die Unfaehigkeit zu lieben. She is currently at work on a new project, entitled Holocaust Migration: Jewish Fiction in Today's Germany. In it, she traces the ways in which challenges of living in a multi-ethnic society where past trauma is dispersed are negotiated.
Jennifer A. Frey is an associate Professor of Philosophy at the University of South Carolina and fellow of the Institute for Human Ecology at the Catholic University of America. Prior to joining the philosophy faculty at USC, she was a Collegiate Assistant Professor of Humanities at the University of Chicago, where she was a member of the Society of Fellows in the Liberal Arts and an affiliated faculty in the philosophy department.  She earned her Ph.D. in philosophy at the University of Pittsburgh, and her B.A. in Philosophy and Medieval Studies (with Classics minor) at Indiana University-Bloomington. She has published widely on action, virtue, practical reason, and meta-ethics, and has recently co-edited an interdisciplinary volume, Self-Transcendence and Virtue: Perspectives from Philosophy, Theology, and Psychology. Her writing has also been featured in First Things, Fare Forward, Image, The Point, and USA Today. She lives in Columbia, SC, with her husband, six children, and six chickens. You can follow her on Twitter @jennfrey