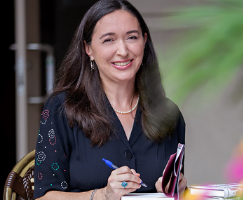 Elena Ferrante on Friendship and the Intellectual Life
In Episode 6 of Sacred & Profane Love, Professor Jennifer A. Frey (University of South Carolina) has a conversation with Zena Hitz (St. John's College) about friendship, the intellectual life, and the virtue of seriousness in Elena Ferrante's Neopolitan novels.  This episode explores how the cultivation of inner life through contemplation–i.e., seeing, understanding, and savoring things as they are–allows us to enter into deep and meaningful communion with other human persons.
Ferrante novels:
https://www.goodreads.com/book/show/26828169-the-neapolitan-novels
Zena Hitz is a Tutor at St. John's College where she teaches across the liberal arts.  She writes in defense of intellectual activity for its own sake, as against its use for economic or political goals.  She is currently writing a book on intellectual life and why it matters for Princeton University Press, based on essays that have appeared in First Things, Modern Age, and The Washington Post.  Her scholarly work has focused on the political thought of Plato and Aristotle, especially the question of how law cultivates or fails to cultivate human excellence.  She received an MPhil in Classics from Cambridge and studied Social Thought and Philosophy at the University of Chicago before finishing her PhD in Philosophy at Princeton.
Jennifer A. Frey
 is Assistant Professor of Philosophy at the University of South Carolina. Prior to joining the philosophy faculty at USC, she was a Collegiate Assistant Professor of Humanities at the University of Chicago, where she was a member of the Society of Fellows in the Liberal Arts and an affiliated faculty in the philosophy department.  She earned her PhD in philosophy at the University of Pittsburgh, and her B.A. in Philosophy and Medieval Studies (with Classics minor) at Indiana University-Bloomington. Her research lies at the intersection of philosophy of action and ethics, with a particular focus on the Aristotelian-Thomist tradition.
This podcast is a project of Virtue, Happiness, & the Meaning of Life, and is made possible through a generous grant from the John Templeton Foundation.
Content copyright the University of South Carolina and the University of Chicago.
Music credits, "Help me Somebody," by Brian Eno and David Byrne, licensed under CC BY-NC-SA 2.5.