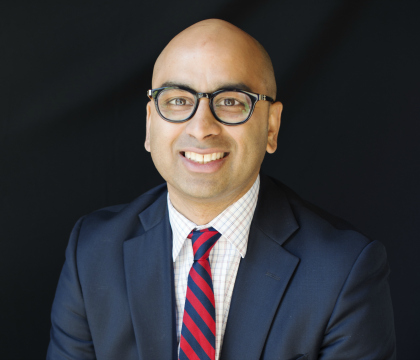 Randy Boyagoda on Original Prin and Dante's Indiana
In this episode, I speak with novelist, critic, and Americanist Randy Boyagoda about his two most recent novels, Original Prin and Dante's Indiana. We discuss his influences (suspected and real), how he juggles different genres of writing in his wide ranging career, and why reading fiction is a spiritual practice.
As always, I hope you enjoy our conversation.
Randy Boyagoda is the author of four novels, a SSHRC-supported critical biography, and a scholarly monograph. His fiction has been nominated for the Scotiabank Giller Prize and IMPAC Dublin Literary Prize, and named a New York Times Book Review Editor's Choice Selection and Globe and Mail Best Book of the Year. He contributes essays, reviews, and opinions to publications including the New York Times, Wall Street Journal, the Atlantic, the Walrus, First Things, Commonweal, Harper's, Financial Times (UK), Guardian, New Statesman, and Globe and Mail, in addition to appearing frequently on CBC Radio and podcasting for the Toronto Public Library. He served as President of PEN Canada from 2015-2017 and is currently a member of The Walrus Educational Review Committee, and the boards of the Toronto International Festival of Authors and the Conference on Christianity and Literature. His fourth novel, Dante's Indiana, was published in 2021.
Jennifer Frey is an associate professor of philosophy and Peter and Bonnie McCausland Faculty Fellow at the University of South Carolina. She is also a fellow of the Institute for Human Ecology at the Catholic University of America and the Word on Fire Institute. Prior to joining the philosophy faculty at USC, she was a Collegiate Assistant Professor of Humanities at the University of Chicago, where she was a member of the Society of Fellows in the Liberal Arts and an affiliated faculty in the philosophy department. She earned her Ph.D. in philosophy at the University of Pittsburgh, and her B.A. in Philosophy and Medieval Studies (with a Classics minor) at Indiana University, in Bloomington, Indiana. She has published widely on action, virtue, practical reason, and meta-ethics, and has recently co-edited an interdisciplinary volume, Self-Transcendence and Virtue: Perspectives from Philosophy, Theology, and Psychology. Her writing has also been featured in Breaking Ground, First Things, Fare Forward, Image, Law and Liberty, The Point, and USA Today. She lives in Columbia, SC, with her husband, six children, and chickens. You can follow her on Twitter @jennfrey.
Sacred and Profane Love is a podcast in which philosophers, theologians, and literary critics discuss some of their favorite works of literature, and how these works have shaped their own ideas about love, happiness, and meaning in human life. Host Jennifer A. Frey is an associate professor of philosophy at the University of South Carolina. The podcast is generously supported by The Institute for Human Ecology at the Catholic University of America and produced by Catholics for Hire.
Episode Links:
Original Prin
Dante's Indiana
"Faith in Fiction," First Things
"The False, the Bad and Ugly: Looking for Faith and Beauty in Movies and other Dark Mirrors," University of Toronto Newman Center Faith & Reason Lecture Series 2022-2023